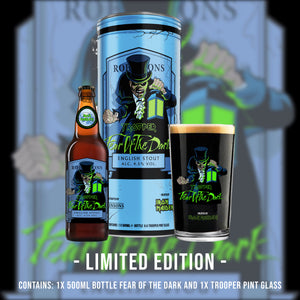 ** LIMITED EDITION - WORLD PREMIERE **
Iron Maiden presents the new FEAR OF THE DARK gift tin made of high-quality embossed aluminum with a 500ml bottle of the FEAR OF THE DARK stout and the popular TROOPER beer glass. It is the perfect addition to any TROOPER collection, with a reliable increase in value! AVAILABLE FOR A SHORT TIME.

Contains: 1x500ml bottle FEAR OF THE DARK, 1xTROOPER beer glass.
The ideal gift for the IRON MAIDEN fan and collector!
Only while stocks last. It is a special fan item with limited production cycles and in a strictly limited number of items.